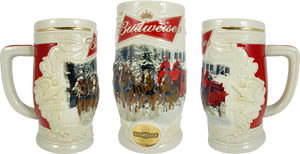 2014 Budweiser Holiday Stein
Regular price $49.99 $25.99 Sale
2014 Budweiser Annual Holiday Stein
Celebrate the 35th year honoring the Budweiser Clydesdales.  This collectible Budweiser Holiday stein features the World Famous Clydesdale Hitch on an all ceramic stein.
A Holiday Tradition Since 1980
In the winter of 1980, Anheuser-Busch released a ceramic beer stein featuring a nostalgic sepia-toned image of the Champion Budweiser Clydesdales and a holiday tradition was born.
A toast to the holidays...THIS BUD'S FOR YOU.
Packaged:
Each Limited Edition Budweiser Clydesdales Holiday Stein comes with a Certificate of Authenticity to recognize its genuineness and craftsmanship.
Single Ceramic Beer Stein